Tour de Yorkshire Pudding
*PLEASE CLICK THE BLUE SOUND ICON FOR AN AUDITORY VERSION OF THIS BLOG POST.
The Tour de Yorkshire takes part from the 2nd to the 5th of May this year and the race passes just near our bakery in Mapplewell, Barnsley! If you've not heard of Tour de Yorkshire, it is a road cycling race around Yorkshire over the course of several days. This year, the men's course covers 617.5km over 4 stages and the women's course covers 264km over 2 stages.
If you're wondering why it's called Tour de Yorkshire and not Tour of Yorkshire, the answer is very simple, the race is owned by a French company (Amuary Sports Organisation), its name is therefore French and some of the climbs within the race have also been given a French name as a nod to the French origins of the race. You can find out more about the race on Tour de Yorkshire's website.
Below shows a section of the race and as you can see, it goes right by our bakery! The images below are taken from the men's race section on the website but the women's route also goes right near us!
So, in celebration of the Tour de Yorkshire and all things related to Yorkshire, we have found a few ways to twist the classic Yorkshire Pudding into something a little different!
5 delicious and different ways to enjoy a Yorkshire pudding!
But first, a little about the Yorkshire Pudding. If you're unfamiliar with this Yorkshire delicacy, it are a light and airy batter which is cooked in a dish with oil in the bottom which needs to be heated before the batter is poured in, this gives the pudding that light and risen texture. They are often accompanied by a roast dinner and used to mop up those delicious gravy juices!
According to Historic UK, the origins of the Yorkshire pudding are unknown. It was in 1737 that the first recipe was recorded, in a book titled The Whole Duty of a Woman. This was titled 'Dripping Pudding' and consisted of batter being placed into a hot pan with a small amount of fat, then placed under a shoulder of mutton in the oven. This was used instead of a dripping pan to collect the fat.
The Yorkshire name gained its popularity from a publication by Hannah Glasse in the 18th Century, this distinguished the light and crispy nature of the puddings made in this region compared to other places. During the 1800's, Mrs Beeton's recipes highlighted the importance of using a hot oven to get the pudding to rise. The Yorkshire Pudding has a simple batter of flour, eggs, milk and salt but this has become a household favourite for many people and you can see below how the humble Yorkshire Pudding has been developed into new and innovative creations!
Let us know in the comments below if you have tried any of these or if you have any other exciting ways to try Yorkshire Puddings!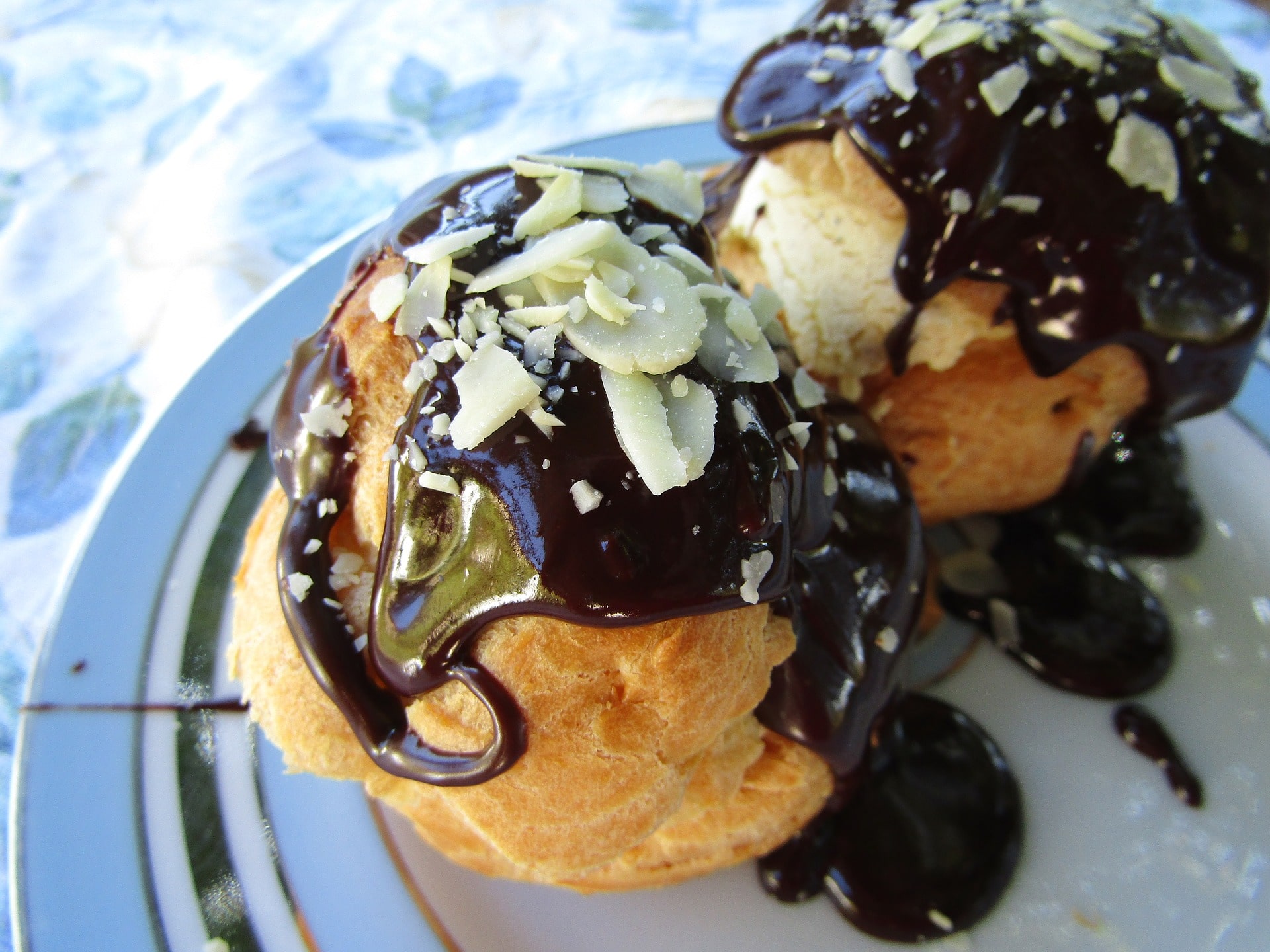 yorkshire pudding profiteroles
Why not change it up from your traditional Yorkshire pudding with your Sunday dinner and try them for dessert! This recipe from Tasty combines a simple Yorkshire pudding recipe with homemade chocolate sauce. You could easily switch this up and pair it with a toffee sauce or add ice cream for extra indulgence.
*Image shown is not from the recipe provided.
A tasty alternative to your regular burger bun, with the summer weather starting to appear in the UK, these would be perfect for a BBQ or just to try something different. Lakeland'ds recipe features a classic beef burger but you could switch the beef out with halloumi or battered fish goujons for an alternative.
*Image shown is not from the recipe provided.
caramalised plum yorkshire pudding
A delicious and fresh way to enjoy a Yorkshire pudding. You can fill these with any fruit you would prefer but this recipe uses plums and combines it with the flavour of orange.
*Image shown is not from the recipe provided.
We saw a few of these emerge over Christmas, using a Yorkshire Pudding wrap to encase the delicious-ness of a Christmas dinner. The beauty of this is that you can fill the wrap with whatever you like! BBC Good Food's recipe combines leftovers from your Sunday dinner. You could also add chocolate spread and banana for a sweet twist!
*Image shown is not from the recipe provided.
quiche with a yorkshire pudding crust
A quiche with a Yprkshire pudding crust is definiely something I can get on board with. If making the crust is something which puts you off making a quiche, or maybe you just fancy a change, then this is the recipe for you! Fill with your favourite veggies or meats in an egg mixture and you're good to go! You can either make little ones in a standard Yorkshire pudding tin or you can go big and make a jumbo, family sized Yorkshire pudding!
*Image shown is not from the recipe provided.
Recipe: Capture by Lucy's Filled & Baked Popover Yorkshire Puddings